Academy Square Development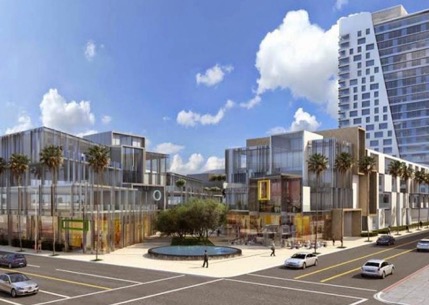 Los Angeles, California
Mixed-Use Development
General Contractor: Hathaway Dinwiddie
Contract Value: $3.4M
Scope of Work: Plumbing
Services: Design Engineering, Preconstruction
Delivery: Design-Build, Lump Sum
LEED® Gold Certification
Residential Tower
General Contractor: Webcor Builders
Contract Value: $4.2M
Scope of Work: Plumbing
Services: Design Engineering, Preconstruction
Delivery: Design-Build, Lump Sum
LEED® Gold Certification
Project Description: The project from Los Angeles-based Kilroy Realty would redevelop a 3.5-acre site bounded by Vine Street, De Longpre, Ivar and Homewood Avenues. Plans call for a mixture of high-rise and low-rise structures, containing nearly 500,000 square feet of multifamily residential units, office space, shops and restaurants.
Construction of the Academy, is seeking LEED Gold certification and is expected to occur over 27 months beginning in the third quarter of 2016 and concluding in late 2018 or early 2019.
The project involves the demolition of the existing buildings and construction of an approximately 498,599 square foot mixed-use project containing offices, residences, and retail/restaurant space with associated parking. The project includes approx. 233,665 square feet of office, and 49,135 square feet of retail/restaurant land uses in three buildings up to five stories in height. The project also includes an approx. 215,799 square foot, 23-story residential tower containing up to 250 residential units. The residential portion of the project would also include a gym, a pool, public and private open space, and 1,349 subterranean automobile parking spaces and 398 bicycle parking spaces.

Murray Company scope includes plumbing, domestic water, waste & vent, storm drain, condensate, irrigation feeds, storm water capture and reuse system.

L.A. City is now requiring the capture and reuse of storm water for use as irrigation water, and cooling tower make-up water. This is a fairly new concept which requires engineering solutions in regards to system operation / sequence, equipment selection and placement, and controls communication across trades.