Century Plaza Hotel & Residences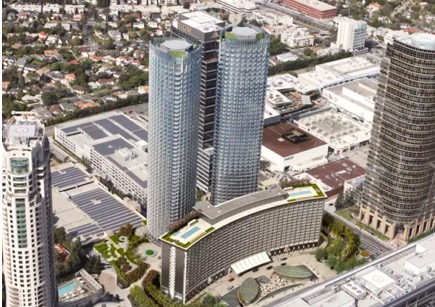 Century City, California
General Contractor: Webcor Builders
Contract Value: $36.3M
Year Completed: 2019
Scope of Work: Plumbing
Services: Engineering, 3D/BIM, Detailing, Fab, Install
Delivery: Design-Build, Lump Sum
Project Description: A major update and expansion for Century City's Century Plaza Hotel. The project will remodel the 1966 hotel, scale down the number of rooms to 394 from 726 and add 63 new residences. But that's just the start: developer Next Century associates will also add two 46-story residential towers behind the hotel, an open-air lobby, public plazas and fountains, and a massive outdoor garden that extends more than two acres. The garden will be flanked by 100,000 square feet of restaurants and retail.
The two towers behind the hotel are designed by Pei Cobb Freed and will have a total of 290 luxury units between them.
The project's public space component, will have plazas and fountains and stretch out to Avenue of the Stars, is an attempt to make pedestrian-unfriendly Century City a little more appealing to people on foot. The property is set to get a Purple Line subway stop on it's edge.
The $2.5-billion Century Plaza renovation will officially begin on March 1 2016, when the hotel will close. Hyatt, which operates the Century Plaza, will be leaving, though it's not been announced who will take their place. (When the hotel renovations are complete, the Century Plaza will be a five-star establishment.) Next Century expects the whole thing to be complete early 2019.