LA LIVE Hotel & Residences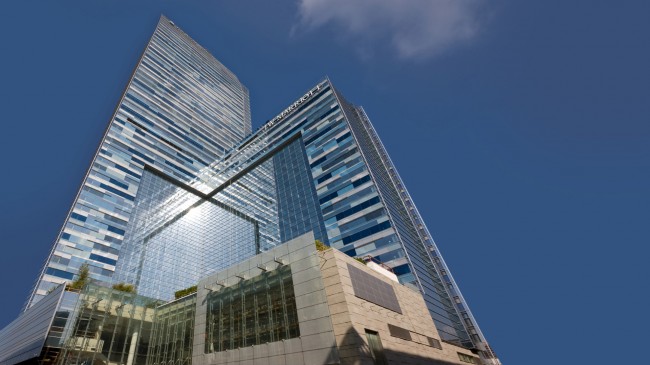 Los Angeles, California
General Contractor: Webcor Builders
Contract Value: $26M
Year Completed: 2009
Scope of Work: Plumbing
Design Engineering, 3D/BIM, GMP
Delivery: Design-Build
LEED® Silver certification
Project Description: AEG's 55- story 1.8 million sq. ft. tower consisting of three basement levels, a JW Marriot Hotel on levels 3 thru 21, a Ritz Carlton Hotel from levels 22 thru 26, and Ritz Carlton Residences from level 27 thru 54
Sustainable Features:
Water Efficiency – 50% of the potable water consumption for landscape irrigation will be reduced by selecting drought tolerant plantings and using high efficiency irrigation fixtures. Building potable water consumption will be reduced by 20%.
Emissions – All refrigerants used minimize the emission of compounds that contribute to ozone depletion and global warming.
Materials & Resources – 95% of the construction and demolition debris will be recycled or salvaged. Materials will be used with recycled content such that the percent recycled constituted 10% (based on cost) of the total materials used.
Low-Emitting Materials – All adhesives, sealants, paints, coatings, composite wood, and agrifiber products will have low Volatile Organic Compounds (VOC's) to increase the quality of indoor air.
Thermal Comfort Controls – Individual comfort controls will be provided for more than 50% of the building occupants in order to suit individual task needs and preferences.
Daylight & Views – 75% of regularly occupied spaces will have natural daylight illumination. 90% of regularly occupied spaces will have a direct line of sight to the outdoor environment.

Murray Company performed the design-build plumbing for the project which included Methane Barrier piping, sub-surface drainage piping, natural gas, domestic water, sanitary waste and vent, grease waste and vent, storm drainage and all associated plumbing equipment.
The project is challenging in that it is a steel constructed building with a very small footprint, especially on the upper floors. Fabrication is key to staying ahead of the game. Access to the site is extremely difficult as the project is located in downtown LA. All material needed to be handled and loaded on a second shift.