LAC + USC Medical Center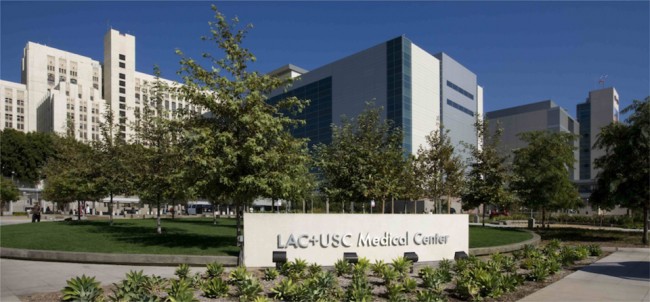 Los Angeles, California
General Contractor: McCarthy/Clark/Hunt
Contract Value: $106M
Year Completed: 2008
Scope: Plumbing, Mechanical Piping, Fuel Oil
Services: Design Engineering, 3D/BIM, Fab
Delivery: General Contracting
Los Angeles County + USC Medical Center (LAC+USC) opened the doors to its new, state-of-the-art facility in late 2008 . The new 600-bed, 1.5 million square-foot facility includes four major components: a seven-story outpatient building; an eight-story inpatient tower; a five-story diagnostic and treatment building, and a central energy plant. All four buildings are built to withstand natural disasters and other emergency situations.  The 430,000 square-foot diagnostic and treatment building sits on top of a base-isolation system that can accommodate 22 to 24 inches of movement during a seismic event. Its state-of-the-art HVAC system includes rooftop air handlers in mechanical penthouses with a variable air volume distribution system.
The LAC+USC single-story, 60,000 square-foot central utility plant sits below grade and is a reinforced concrete structure. It is connected to the diagnostic and treatment tower by a 300-foot utility tunnel, which houses  HVAC equipment, MEP systems, and fire- and life-safety systems. Mechanical, electrical, and plumbing systems leading from the central utility plant have seismic restraints designed for forces associated with the maximum credible earthquake for this site. The central utility plant includes seven two-megawatt, 4,160v generators which, when tested, formed the largest 4160v, 14 megawatt test in California. In addition, it houses five electric and steam chillers and five steam boilers which run on natural gas or propane.
The facility support systems include two 45,000-gallon propane tanks separated and surrounded by blast walls, an underground 42,000-gallon oil tank for the generators, a 200,000-gallon underground domestic water storage tank, and a medical gas yard for the hospital's needs. The facility includes a 75 square-foot underground Los Angeles Department of Water and Power two-grid, 34kv substation, reducing the power to the 4,160v electrical system. There are two dual-ended substations with tie breakers and bus duct for redundancy. The emergency power runs through transfer switches designed to shed loads in order to keep the most critical power functioning in the event of failure. The primary normal and emergency power was distributed from the plant to the three buildings through a combination of underground duct banks and bus duct.
BIM
During the planning phase for the buildings, the project team relied on 3D software. The team examined the coordination and created fly-by simulation for congested spots in the energy plant. This approach revealed places where ductwork and other MEP lines encroach on the designated clear space for the plant's roll-up doors.
For more details go to:  www.clarkconstruction.com