LAX CUP Replacement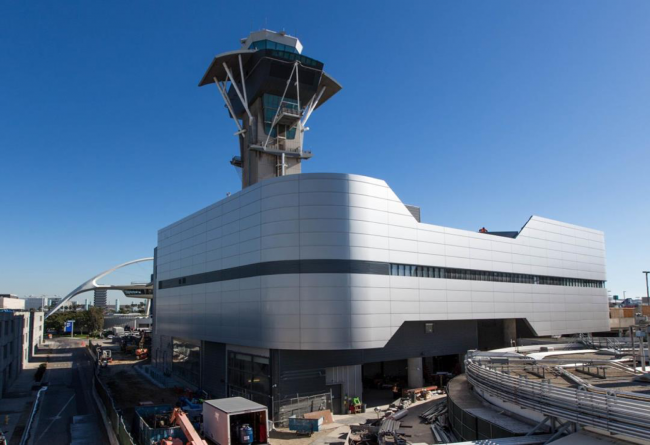 Los Angeles, California
General Contractor: Clark/McCarthy JV
Contract Value: $44.2M
Year Completed: 2014
Scope: Plumbing, HVAC, Process
Services: 3D/BIM, Design
Delivery: Design-Build
LEED® Silver Certification
With completion scheduled for the summer 2014, the Central Utility Plant (CUP) Replacement project provides a modern, state-of-the-art, computer-managed utility plant for Los Angeles International Airport (LAX). A  Design Build project, the new facility will improve the reliability of utility services and help to enhance passenger comfort and experience at LAX.
Clark, in a joint venture agreement, is constructing the new 64,000 square-foot, steel-framed replacement CUP with a 20,000-ton cooling capacity. The team is managing the installation of the associated equipment such as a stand-by boiler, primary and secondary chilled water pumps, cooling towers, electrical systems and switchgear.
The project also includes:
New maintenance shop and offices
Above-grade thermal energy storage (TES) tank with capacity for 1.6 million gallons of water and 15,500 ton-hours of cooling
Replacement of approximately 18 miles of pipe and duct bank
Installation of several miles of new distribution piping
Upgrade of pump rooms and air handling equipment in 21 different locations
The existing CUP will service the airport throughout construction
Upon project completion, the replacement will be brought on-line and the old CUP will be decommissioned and demolished by Clark.
Sustainability

Murray Company provided the detailing and 3D/BIM for the Plumbing, HVAC, Process and on-project systems including water, oil, air, waste, vent, drains, equipment setting and erection.
FUN PROJECT FACTS: 
The Chilled Water System running at peak capacity (36 Million gallons/day) could cool 373,500 homes.
The Heating Hot Water system running at peak capacity (4.1 million gallons/day) could provide heating hot water for 16,200 homes.
Power from the Combustion Turbine Generators (CTG) could power the lighting and appliances for 9,100 homes.
Nearly nine miles of underground distribution piping will be installed throughout the Central Terminal area.