LAX TBIT Appreciation Day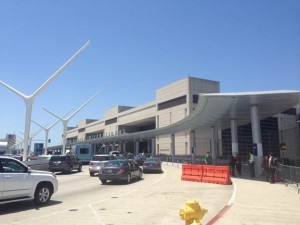 This past weekend Murray Company was invited to the LAX Appreciation Day for the newly renovated Tom Bradley International Terminal (TBIT) at LAX.  The $4-billion upgrade brings the TBIT terminal up to date and includes 18 new gates, with some gates able to accommodate the new Airbus A-380 jumbo jet, upscale restaurants and high-end designer stores.  The new grand central hall has been named Villaraigosa Pavilion in honor of the outgoing LA Mayor Antonio Villaraigosa.
 While Murray Company did not have any scope inside the terminal for the renovations, we were awarded a small contract of $323,000 to re-route site utilities and add storm drainage for the new canopy structure on the departures level outside TBIT (anticipated final contract of $550,000).  Project Manager Shaabini Alford, Foreman Terry Walls, Site Utilities Project Engineer Nathan Keeny and several site utilities foremen successfully completed the project in time for the LAX Appreciation Day open to the public over the weekend.
 It was Murray Company's first time working with Walsh-Austin Joint Venture and we were consistently praised for bringing unique solutions to difficult issues (such as epoxy lining existing corroded risers inside concrete columns) and our ability to provide manpower on short notice to meet a difficult schedule.  This opportunity has opened doors for potentially more work with Walsh and/or Austin in the future.