LAX Terminal 1 Modernization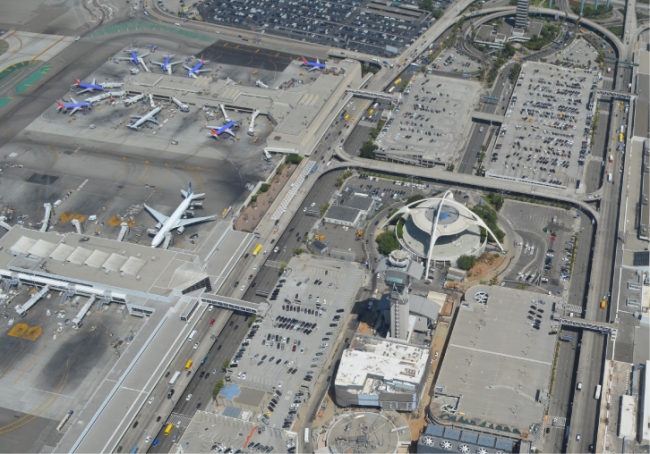 Los Angeles, California
General Contractor: Hensel Phelps
Contract Value: $1M
Year Completed: 2018
Scope of Work: Plumbing
Services: Design, Detailing, Fab, Install
Delivery: Design-Assist, GMP
Project Description: The scope of the Project includes a full renovation of the LAX Terminal 1 while maintaining ongoing Southwest operations and flights.  The Project is estimated at over $265 million and will take three and a half years to complete.  Murray Company's proven relationships with Hensel Phelps, Southwest Airlines and Los Angeles World Airports allowed us to be selected based upon performance and our ongoing desire to exceed all customer expectations.
Concourse Improvements – Increase the square footage in the northern portion of the concourse by approximately 25 feet on each side to provide for larger holdrooms, larger restrooms, and open and inviting retail, food and beverage concessions integrated into the holdroom experience.
Security Screening Check Point Improvements – Increase the square footage of ticketing building to provide post-security screening check point recompose area and allow state-of-the-art, industry standard Transportation Security Administration (TSA) passenger screening lanes to be constructed within the footprint of the existing facility.
Roof Replacement – Since the existing roof is nearing its useful life, it is in the best interest of LAWA and Southwest to replace the roof as part of the renovation.
Fire Water Loop Replacement – The airside fire loop will be upgraded as part of the aircraft parking ramp replacement in order to avoid operational disruptions and additional cost of performing this work independently.
Seismic Improvement Program – Structural voluntary seismic upgrades will be included in the renovations.
Canopy Replacement and Exterior Facade Enhancement –  The exterior façade will be improved by replacing the existing automatic doors and storefront glazing system. Perforated metal panel screens will be incorporated into the existing facade to improve and modernize the overall curb appeal of this first terminal seen by the public when entering LAX.
An extra gate. The original plan called for Southwest to get preferential use of 12 gates in the terminal. It will now have the right to use a 13th gate.