Los Angeles City Hall Renovation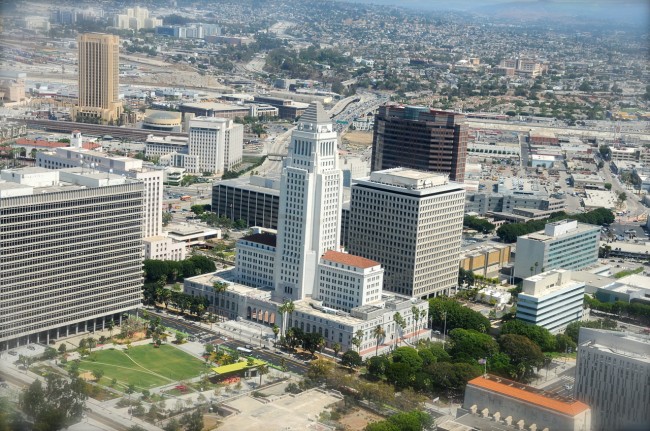 Los Angeles, California
General Contractor: Clark Construction
Contract Value: $8M
Year Completed: 2001
Scope: Plumbing, Mechanical, HVAC
Services: Design Engineering, Fab, Install
Delivery: General Contracting
At 454 feet, the Los Angeles City Hall is the tallest base-isolated structure in the world. Weakened by a series of earthquakes, it was closed in 1998 for a total ground-to-sky refurbishment of the interior first five floors, public areas, and, most importantly, a seismic upgrade.  This seismic upgrade allows City Hall to sustain minimal damage and remain functional after a magnitude 8.2 earthquake.
To strengthen the building, the Clark-led project team added 30,000 cubic yards of concrete, 3,000 tons of structural steel, 5,000 tons of reinforcing steel, and an additional 68,467 million pounds of dead weight to the structure.
Clark also included the excavation of a sub-basement and installation of a system of hydraulic jacks to support the structure while the team installed 526 isolators and sliders, as well as 64 viscous dampers. Excavation of an exterior perimeter moat and saw cut of the perimeter walls from their foundations also was performed to allow the structure to float or sway during an earthquake. A seismically-reinforced shear-wall was constructed and extends from the foundation to the top of the building.

Completed in the summer of 2001, this project involved a complete retrofit of the existing plumbing and mechanical systems.  Project highlights included complete cooling and heating systems with the addition of new chillers, heat exchangers, cooling towers, air handling units, and a complete seismic base isolation of the lower basement level.