Los Angeles Memorial Coliseum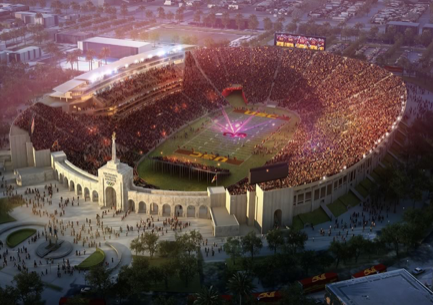 Los Angeles, California
General Contractor: AECOM Hunt Hathaway JV
Contract Value: $6.4M
Year Completed: 2019
Scope of Work: Plumbing and Site Utilities
Delivery: Plan and Spec
Project Description: USC's renovation and restore master plan to the Coliseum will estimate $270 million will begin the early stages of construction after the 2017 Trojan football season and scheduled to open for the 2019 home opener.
Among the planned renovations is the building of a new structure on the south side of the stadium that will house suites, loge boxes and club seats, topped by a new press box. Other renovations include replacement of seats in the stadium, adding aisles and increasing leg room, installation of new video screens and lighting, the addition of new concessions and upgrading concourses, as well as restoration to the iconic peristyle.
Originally designed in 1921 by famed Los Angeles architects Parkinson & Parkinson and built at a cost of $955,000, the Coliseum has undergone few renovations since opening its famed tunnels in 1923. The most significant of those renovations was primarily structural following the 1994 Northridge earthquake. The Coliseum's immediate prominence on the sports landscape was a key factor in the International Olympic Committee's decision to award Los Angeles the 1932 Games.

Murray Company's scope: Plumbing, Domestic Water & Sewage Ejector.