Microchip Manufacturer Fab 11X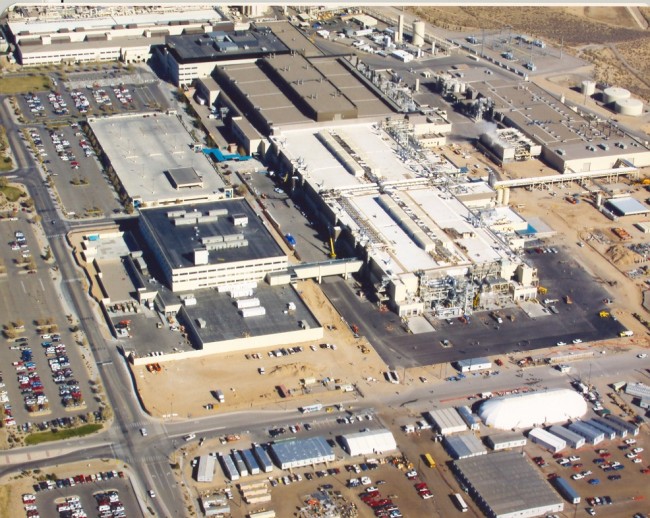 Rio Rancho, New Mexico
General Contractor: DPR
Contract Value: $26.5M
Year Completed: 2001
Scope of Work: Process, Plumbing
Services: Design, 3D/BIM, Fab, Install
Delivery: General Contracting
Fab 11X is an approximately 400' x 800' semiconductor fabrication facility totaling approximately 1,000,000 sq. ft.  The three levels include a 60' x 800' utility trench (basement) sub fab level, fab level, interstitial fan deck level, a separate building for D.I.  Polishing and PCW, CPCW equipment plus a C.U.B. upgrade.

Murray Company was responsible for procurement, installation and quality assurance of ultra-high purity, high purity and low purity piping systems, including N2, HPN2, HP02, HPAR, CAR, HPHE, LCHE, HPH2, OFA, IA, BA, BRA, PA, PV, HA, HW, AV, WV, CPCWS & R, PCWS & R, IW systems, including equipment rooms, mains and laterals.  We were also responsible for support steel, mains and lateral racks.
With a total of 330,000 man hours, over 180,000 feet of pipe ranging from ½" to 24" stainless steel and other exotic materials, and over two million pounds of support steel to install in eight months, planning, procurement, detailing, fabrication, HP Fabrication, tools, transporting equipment and quality assurance were all of the utmost importance. We were successful only because we coordinated each of these important tasks, had a procedure, and a lead that was part of the team with a common goal to complete the project.