Stubhub Center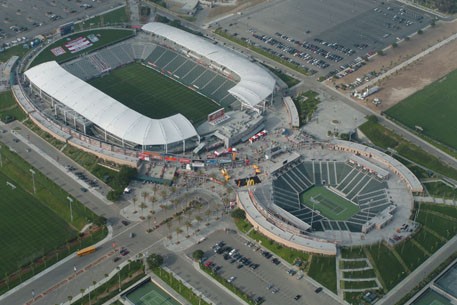 Carson, California
General Contractor: PCL Construction
Contract Value: $4M
Year Completed: 2003
Scope: General Engineering, Site Utilities
Services: Detailing, Fab, Install
Delivery: General Contracting
Project Description: The USTA Training Center – West is located at the StubHub Center in Carson, Calif. The StubHub Center is a 125-acre development featuring state-of-the-art stadiums and facilities for soccer, tennis, track & field, cycling, lacrosse, rugby, volleyball, baseball, softball, basketball and other sports.
Designated as an "Official U.S. Olympic Training Site" the StubHub Center is the nation's most complete training facility for Olympic, amateur and professional athletes. The USTA Training Center – West features 15 hard courts and four Har-Tru clay courts.
The construction of what was known as The National Training Center in 2002 was part of a $120 million development of the recreational and athletic facilities at California State Rancho Dominguez. The sports campus was located on 85 acres and began construction in February 2002 and opened in June 2003.  The state-of-the-art, multi-sport complex features a 27,000 seat soccer stadium that is the new home of the major league soccer team The Los Angeles Galaxy, a 13,000 seat tennis complex, track and field stadium, cycling velodrome, and a three-mile jogging course.
The National Training Center also features five training fields, a practice area, and a central building to house office space, locker rooms, weight training room, physical therapy rooms and player lounges.  The complex also includes residential housing to allow teams to stay at the facility.  This center is used for additional sporting events and University commencements.  

Murray Company performed installation of the first piece of underground general engineering piping on the sports complex in May, 2002. This project had to be completed for opening day of Soccer on July 1, 2003.
Photo by Matt A. Brown