Staples Center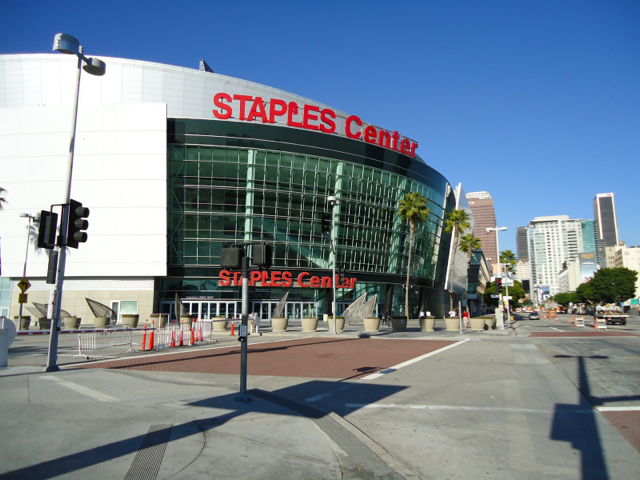 Los Angeles, California
General Contractor: PCL Construction
Contract Value: $8M
Year Completed: 1999
Scope of Work: Plumbing
Services: Design Engineering, Fab, Install
Delivery: General Contracting
This $300 million state-of-the-art sports entertainment complex is located in downtown Los Angeles and is the most technically advanced building of its kind.  It has improved and incorporated some of the best features from arenas all over the country to make every event a great experience.  The overall building and floor area is 960,000 sq-ft, including 20,000 seats for basketball, 19,000 seats for hockey, 2,500 club seats, team offices for the Kings and Lakers, extensive broadcast production facilities, three restaurants and a private club (including outdoor terrace dining), team merchandise stores, separate home locker rooms for each tenant, visitors' locker rooms for each sport, large media workrooms, 160 private suites, eight party suites, large-capacity catering kitchen, 24 concession stands, and a cigar lounge.

Originally planned for a 24-month schedule, it was then reduced to 18 months. In addition, many major design decisions remained unresolved at the start of construction. In order to meet the challenges of the complicated geometry, incomplete design, and an aggressive construction schedule, a composite precast/cast-in-place structural system was selected. This system allowed for large simultaneous concrete operations both onsite and off-site. PCL Construction worked with the structural engineer to find a design that could deliver on the aggressive schedule requirements and meet stringent Southern California seismic requirements.

This was by far the most aggressive commercial schedule that we have undertaken as a subcontractor. We mobilized on site in March 1998 and began installation of underground plumbing work almost immediately without approved plan check or shop drawings. The city did not release the permit plumbing drawings until late summer of 1998.  When the stadium opened in October 1999,  we had spent in excess of 68,000 man hours with a peak crew size of 40 tradesmen. This project was a perfect demonstration of our commitment to both PCL and the owners, the L.A. Arena Company, with respect to schedule, quality and performance, a true partnership in construction.
Murray Company established the piping leading to all concession stands, food courts, sport bars and restaurants.  The sump pump system was used to install the  ice floor, one stainless steel (due to the deionized water used in making the ice floor) three stage booster pumps, domestic water system, domestic hot water system and a fuel oil system.