Sunset Bronson Studios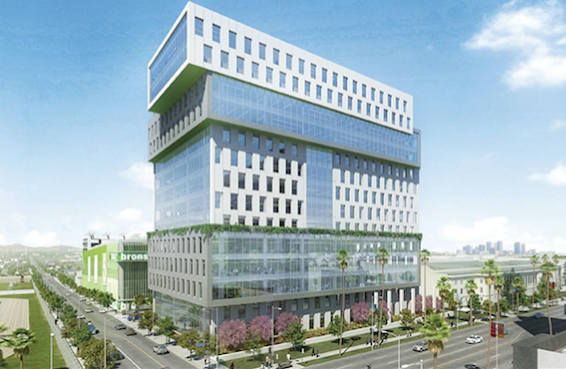 Los Angeles, California
General Contractor: McCarthy Builders
Contract Value: $900K
Year Completed: 2016
Scope: Plumbing, General Engineering
Delivery: Lump Sum
LEED® Gold Certification
Project Description: The new Sunset Bronson Studios, known as the "Icon Tower," is a 200-foot tall, 14-story concrete tower expansion on 315,000-sf and rising from the southwest corner of Sunset Boulevard and Van Ness Avenue and viewed from the 101 freeway.
This Gensler-designed office tower includes a five-story production office building and a seven-story above and below grade, 1,600-space parking structure. The façade of the office building had been modified to include groupings of floors that are horizontally offset from each other and feature alternating façades of glass curtain wall and panelized, precast concrete. The top volume of the office building leaves a smaller footprint compared to the bottom portion of the building creating a unique profile on the skyline. In addition, a roof-top terrace for the tenants had been provided on the second and fourth offsets.
This "Icon Tower" is just one of many tall buildings that are creating a changing Hollywood's skyline.

Murray Company's scope of work included extensive site work, core and shell restrooms and fixtures.